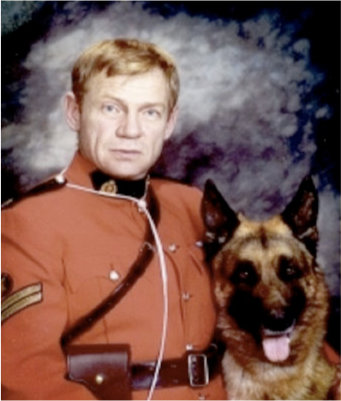 Cpl. Jim Galloway was the first RCMP Dog Handler to agree to train and work alongside civilian dog handlers in Edmonton. In 1995 he became the RCMP coordinator for the newly formed RCMP Civilian Search and Rescue Service Dog Program.
In 1999 our name was changed to the RCMP Civilian Search Dog Association and finally in 2006, we became the Canadian Search Dog Association.
Jim opened a door for us that had previously been closed. He freely shared
what he knew about dog training and searching. All he asked for in return was that we never give up trying. Regardless of what happened, you were not allowed to quit. Without his enthusiastic participation and support we would still be scattered, independent teams struggling for respect.
He showed us how to do things the "RCMP" way:
Be confident
Do the job quietly and competently
Do your paperwork
Keep it professional
Train, train, train and train some more
Always aim higher
Jim never simply helped. He poked, prodded, cajoled, demonstrated, demanded and he yelled. He inched the bar ever higher and continually challenged us to meet it. Jim also laughed often and loudly. He was our friend, mentor, advocate and defender. He treated us like friends and equals. With Jim around we never felt like we were just "civilians". RCMP officers sometimes referred to us as "Jim's Team" and we were proud of it. His influence and the example he set for us will continue to guide us in the future.
On February 23, 2004 Jim lost his life in the line of duty. Although we lost a dear friend, we gained a new family. Knowing how important CSDA was to Jim, his family has carried on supporting our team.
Thank you hardly seems adequate to express how much we appreciate everything the Galloway family has done for us before and after his death.
The CSDA will proudly carry on the legacy of Cpl. Jim Galloway.